Biofun - Biograph Infiniti Add-on
Enhance your Thought Technology Suite
EEG, Physiology, Z-Score, Rehab, Continence
Make physiological training fun and challenging
Video games and real-world toy interfaces
Manufacturer Part #
SA8000

In Stock
BioFun is a software add-on for the Thought Technology BioGraph Infiniti software, consisting in a series of video games and toy interfaces to help your clients become healthier by teaching strategies of self-regulation and developing voluntary control while having fun!
BioFun contains ready-to-go screens for all our popular Suites (English only): EEG, Physiology, Z-Score, Rehab and Continence Suites.Comprehensive instructions are provided to create your own screens and find new ways to use these games.
Easy to install:

BioFun Setup will detect the Suites existing on your computer and install the corresponding components automatically.

Easy to use:

Biofun games are linked to specific screens, ready to play! Just load a screen in BioGraph, the game will automatically launch with the screen.

Integrated to your suite:

The BioFun screens are integrated with your Suites as new screens, sharing the same channel sets, categories and screen look. They appear as if they were part of the Suite they relate to.

Score list for motivation:

Top game scores will be saved in the score list for better motivations.

Flexible game window:

the size and positioning of game window can be flexibly adjusted. The game window can sit right next to your physiology signals, or you can maximize it to the full screen, or move it to a second monitor.
Software add-on for TT Suites
BioFun Games is a Software Add-on which is designed to enhance the following Thought Technology Suites:
EEG Suite & Z-Score mini-Suite:
Train your brain with NeuroRacer – a fun and engaging racing game. It provides contingent, relevant feedback, as vehicle speed, track size and obstacles are directly controlled by EEG activity. Avoid obstacles and receive points in rewards conditions, while discouraging artifacts and inhibit-band activity.
Physiology Suite :
Train to relax or take control of your HRV while flying around the world in a balloon. Drive, fly or dive and boost up your engine using physiological control.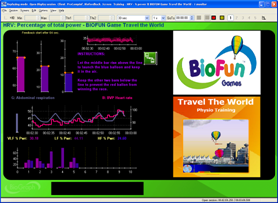 Rehab Suites (both ProComp/FlexComp and MyoTrac3/MyoTrac Infiniti Suites) & Continence:
Fly a balloon while working your muscles. Gain control over your muscles and movements while swimming like a fish, piloting a race car or even flying like a super hero!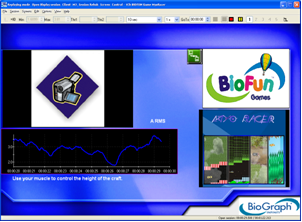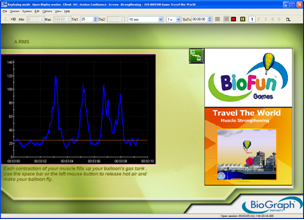 Toy Interface:
The Toy interface is a simple ON/OFF switch that can be activated from BioGraph. The switch (actually a relay) can be used to activate a toy (such as an electric train set, racetrack, electronic teddy bear, etc.).
There are two technologies that can be used:
TT-USB switch controlled by the interface switch instrument
The Ontrak ADU200 (not provided) controlled by the TT Relays application (http://www.ontrak.net/ADU200.htm)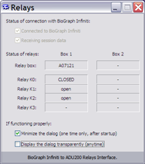 Each ADU200 has 4 relays that can be individually controlled by BioGraph via the connection instrument (Boolean type actions). TT Relay is very flexible and is able to detect the ADU200 being plugged in while BioGraph is running. If a unit is plugged in, its serial number will be displayed next to "Relay box" as shown below. The status of the relay will be also displayed. Although this interface is primarily designed for ADU200, it is compatible with ADU208 and ADU218.
Travel the World:
You are invited to participate in the "Fly around the World" competition; a prestigious hot air balloon race inspired by Jules Verne's classic novel. Control a balloon with your physiology and fly over famous cities such as Vancouver, Hong Kong, Moscow, Cairo, Paris, Montréal and New-York. Do not limit yourself, fly up and reach the stars!
This game works on all suites EXCEPT EEG Suite and Z Score Mini Suite.
PhysioRacer – MyoRacer – NeuroRacer:
Three variations on the same theme: you guide a craft in a path using your physiology. Choose a character: a race car driver, a spy flying a stealth plane, a submarine in a secret mission, a clown fish or even a super hero!
PhysioRacer is designed for HRV and relaxation, works on Physiology Suite.
MyoRacer is designed for muscle rehabilitation, works on Rehab Suite and Continence Suite
NeuroRacer is designed for Neurofeedback, works on EEG Suite.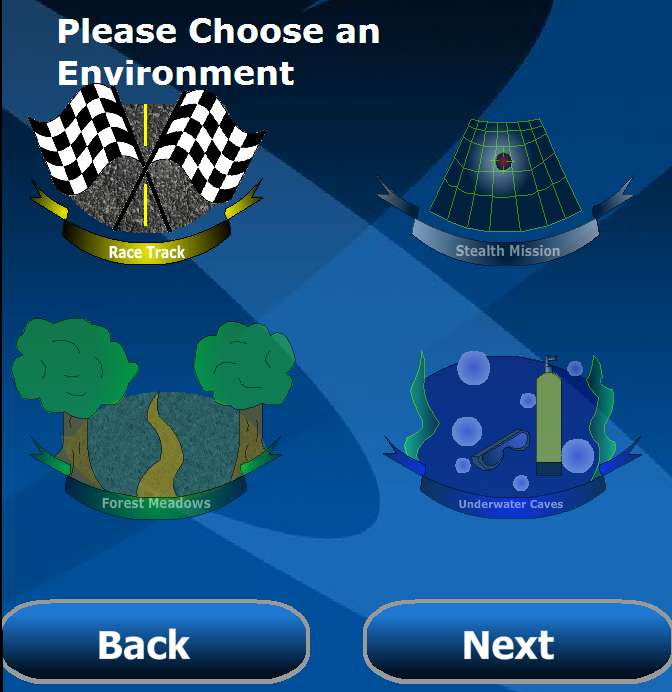 Toy Interface:
Connect BioGraph to toys such as Raceways, electrical trains or robots and use your physiology to control them. It works on all suites EXCEPT EEG Suite and Z Score Mini Suite.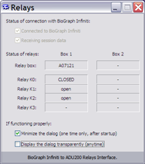 Specifications
Installation:
The CDs must be installed in a specific order and BioFun Games should be installed last.
BioGraph Infiniti version 5.1 (or later version) is the main software engine of all Thought Technology Ltd. systems. It must be installed first.
Your Suites must be installed next. (You need to have at least one of the suites: EEG, Physiology, Z-Score, Rehab and Continence Suites. Please see Note 2 below.)
BioFun Games must be installed last.
BioFun Setup will detect the Suites installed on your computer and install the corresponding components.
Note 1: If you purchase a new Suite later, you need to run BioFun set-up again after installing your new Suite. This will allow the installation of the BioFun components related to the new Suite.
Note 2: If you do not use one of the Suites listed above, BioFun games will still be installed on your computer. However, you will not have direct access to them. You will need to connect them to your favorite screen(s) using the Screen Editor.
List of Add-on Screens for Different Suites:
Add-on for Physiology Suite:
Open Display Surface EMG Screens
Training - 1 EMG - BIOFUN Game Travel the World
Training - 2 EMG - BIOFUN Game Travel the World
Training - 1 EMG - BIOFUN Toys Interface
Open Display Skin Conductance Screens
Training - SC - BIOFUN Game Travel the World - 1 monitor
Training - SC - BIOFUN Game PhysioRacer - 1 monitor
Training - SC - BIOFUN Toys Interface – 1 Monitor
Open Display Temperature Screens
Training - Temp - BIOFUN Game Travel the World - 1 monitor
Training - Temp - BIOFUN Toys Interface – 1 Monitor
Open Display Heart Rate Variability (HRV) Screens
Training - HRV - HR max - min & BIOFUN Game Travel the World
Training - HRV - % power & BIOFUN Game Travel the World - 1 monitor
Training - HRV - SDRR - BIOFUN Game Travel the World
Training - HRV - Total power & BIOFUN Game Travel the World - 1 monitor
Training - HRV - HR max - min & BIOFUN Game PhysioRacer
Training - HRV - HR max - min & BIOFUN Toys Interface
Open Display Multi-Modality Screens
Training - EMG SC Temp - BIOFUN Game Travel the World
Training - EMG SC Temp - BIOFUN Toys Interface
Add-on for EEG Suite:
Open Display 1 EEG Screens: 3 User bands
Training - User bands - BIOFUN Game NeuroRacer - 1 monitor
Training - User bands - BIOFUN TT-USB - 1 monitor
Training - User bands - BIOFUN ADU200 - 1 monitor
Open Display 1 EEG Screens: Standard Bands
Training - Alpha peak frequency - BIOFUN Game NeuroRacer - 1 monitor
Training - Alpha range - BIOFUN Game NeuroRacer - 1 monitor
Training - Beta - BIOFUN Game NeuroRacer - 1 monitor
Training - SMR - BIOFUN Game NeuroRacer - 1 monitor
Training - Theta beta - BIOFUN Game NeuroRacer - 1 monitor
Training - Wide band - BIOFUN Game NeuroRacer - 1 monitor
Open Display 1 EEG Screen: 6 User Bands
Training - 6 User bands - BIOFUN Game NeuroRacer - 1 monitor
Open Display 1 EEG Screens: Multiple Bands
Training - Multiple bands - BIOFUN Game NeuroRacer - 1 monitor
Open Display 2 EEG Screens: User Bands
Training - 6 User bands - BIOFUN Game NeuroRacer - 1 monitor
Training - User bands coherence - BIOFUN Game NeuroRacer - 1 monitor
Open Display 2 EEG Screens: Standard Bands
Training - Coherence alpha range - BIOFUN Game NeuroRacer - 1 monitor
Training - Coherence Beta range - BIOFUN Game NeuroRacer - 1 monitor
Training - Coherence delta range - BIOFUN Game NeuroRacer - 1 monitor
Training - Coherence SMR range - BIOFUN Game NeuroRacer - 1 monitor
Training - Coherence theta range - BIOFUN Game NeuroRacer - 1 monitor
Training - Beta SMR - BIOFUN Game NeuroRacer - 1 monitor
Training - Std bands coherence - BIOFUN Game NeuroRacer - 1 monitor
Training - Coherence theta range - BIOFUN Game NeuroRacer - 1 monitor
Add-on for Z-Score Mini-Suite
Training - Single Z-score - BIOFUN Game NeuroRacer
Training - Z-score index - BIOFUN Game NeuroRacer
Training - Z-score Connectivity index - BIOFUN Game NeuroRacer
Training - Z-score Power index - BIOFUN Game NeuroRacer
Training - Z-score Power Ratios index - BIOFUN Game NeuroRacer
Training - Z-score index with Beta inhibit - BIOFUN Game NeuroRacer
Training - Z-score index with Theta inhibit - BIOFUN Game NeuroRacer
Add-on for ProComp/FlexComp Rehab Suite
SEMG Biofeedback - Relaxation
RELAX - Relaxation with BIOFUN PhysioRacer
RELAX - Relaxation with BIOFUN Toys Interface
SEMG Biofeedback - Strengthening
STRN - Strengthening with BIOFUN Game Travel the World
SEMG Biofeedback - Control
CTRL - Control with BIOFUN Game MyoRacer and 3 EMG
CTRL - Control with BIOFUN Game MyoRacer and 2 EMG
CTRL - Control with BIOFUN Game MyoRacer and 1 EMG
Motor Function Restoration
MFR - Motor Function Restoration with BIOFUN Game Travel the World Physio
MFR - Motor Function Restoration with BIOFUN Toys Interface
MFR - Motor Function Restoration with BIOFUN Toys Interface 4
Respiration Training
Respiration Training - BIOFUN Game Travel the World Physio
Skin Conductance and Temperature Biofeedback
Biofeedback with Skin Conductance and BIOFUN Game Travel the World Physio
Biofeedback with Skin Conductance and BIOFUN Toys Interface
Biofeedback with Skin Temperature and BIOFUN Toys Interface
Range of Motion Training
ROMT – ROM Training with BIOFUN Game MyoRacer, 1 Inclinometer and 2 EMG
ROMT – ROM Training with BIOFUN Game MyoRacer, 1 Inclinometer and 1 EMG
ROMT – ROM Training with BIOFUN Game MyoRacer, 1 Inclinometer
ROMT – ROM Training with BIOFUN Game Travel the World and 1 Inclinometer
Add-on for MyoTrac Infiniti/MyoTrac3 Rehab Suite and Continence Suite
REHAB – Relaxation Training
R - RELAX - Relaxation with BIOFUN Game PhysioRacer
REHAB –Strengthening Training
R - STRN - Strengthening with BIOFUN Game Travel the World
REHAB – Control Training
R – CTRL - Control with BIOFUN Game MyoRacer and 1 EMG
R – CTRL - Control with BIOFUN Game MyoRacer and 2 EMG
CONTINENCE – Relaxation Training
C - RELAX - Relaxation with BIOFUN Game PhysioRacer
CONTINENCE – Strengthening Training
C - STRN - Strengthening with BIOFUN Game Travel the World
CONTINENCE – Control Training
C – CTRL - Control with BIOFUN Game MyoRacer