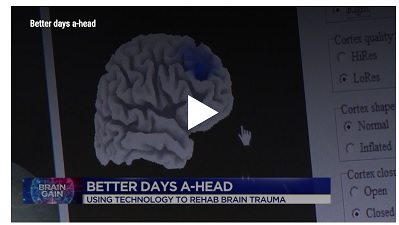 Check out the full video on WTKR.com.
MINNEAPOLIS, Minn. – In advance of Super Bowl LII in Minneapolis, expected to be the coldest Super Bowl on record, the low numbers – perhaps even single digits, of the temperatures outside the climate-controlled U.S Bank Stadium will make headlines. However, other numbers – statistics just as impactful on the human body, are on the rise.
Injury data compiled by an independent third-party company (IQVIA) and released January 26 showed a 13.5 percent increase in diagnosed concussions (281 in 2017 vs. 243 in '16) for the NFL's 2017 preseason and regular season. It's a 15.6% increase compared to the five-year average.
While the league is seeing an increase in concussions year-to-year, outside the stadiums and team facilities – ground is being gained in the treatment of brain trauma.
In 2015, Virginia Beach resident Rachel Lapinski, then 44 years old, was diagnosed with her third concussion. The source of the head injury? Not a contact sport or a car accident, just a bump of her head while working around the house.
Within 10 days, Lapinski, who owns a degree from Cornell University, was having difficulty hearing, seeing and sleeping.
"I lost my brain completely," Lapinski recalled. "High anxiety, stress, irritability – it was horrible," she added. "I could not comprehend words. I was an Ivy league graduate who turned into an Alzheimer`s patient."
Lapinski's neurologist sent her to Spectrum Psychological and Dr. C. Rick Ellis, a licensed clinical psychologist and neurotherapist in Virginia Beach. After mapping her brain to pinpoint under-functioning areas, Ellis sends electromagnetic frequencies to stimulate and provide direct intervention. It's essentially brain rehab.
"We continually address the networks that are dysregulated," Dr. Ellis explains. "We can train from 150 to 200 aspects of brain function at the same time. Around the world, this is exploding."
Including the sports world.
Pure Recovery, a southern California clinic specializing in treatment of sports brain injuries, tells USA Today it treated two active NFL players and six active college football players in 2017. Dr. Harry Kerasidis, a renown neurologist, helped develop Pure Recovery's program. Not only does Dr. Ellis use the same methods in Virginia Beach, he and Dr. Kerasidis worked together as co-presenters at a recent American Psychological Association convention.
"If an individual is committed, and they follow through – then we can see some real dramatic improvements," Ellis explained.
In patients like Rachel. Two years ago, just functioning was exhausting.
"I started to walk down a path that I could see," Rachel said. "It was not dark anymore. There was definitely light on this path."
And that path could lead NFL players to a much better place on their quest to treat brain trauma. And as the league's concussion issue continues to prove tough to tackle, the path could become more and more crowded in the near future.