Lower high BP with a few short sessions per week
Relaxing effects within a few sessions
Interactive Tutorial teaches you how to use it
FDA-cleared. Not a drug. No side effects
Our Part #
ITD RESPERATEUL
Manufacturer Part #
BI-Z3DC-PL99-1

In Stock
RESPeRATE is the only FDA-cleared, non-drug, medical device clinically proven to lower high blood pressure with no side effects.
RESPeRATE utilizes a patented technology to deliver certain kinds of breathing exercises. When these exercises are performed for as little as 15 minutes a day, 3-4 times a week they have been shown to significantly lower blood pressure with no side effects. The Resperate is easy to use and comes with everything you need to get started.
RESPeRATE Ultra also includes a first-of-its-kind Interactive Tutorial that effortlessly guides you to become an expert in harnessing the natural power of your breathing. It's like having your own personal breathing coach.
Computerized unit with smart algorithm
Built in memory to track progress
Interactive tutorial
Small, portable design
Large. enhanced display
Fewer buttons, simple menus
Detachable sensor belt
About RESPeRATE
These therapeutic breathing exercises are difficult to effectively perform without the interactive, personalized coaching that RESPeRATE provides.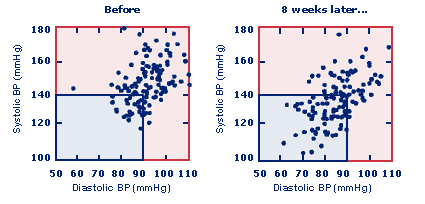 RESPeRATE Reduces Severity of Hypertension
Each point represents the office systolic blood pressure (BP) of the 141 patients in the RESPeRATE treatment group.
Proven to Work
RESPeRATE has been written about in many leading medical journals, magazines, and books, including the American Heart Association's, "Hypertension Primer" and the Mayo Clinic's, "On High Blood Pressure".
RESPeRATE's therapeutic benefit was validated in six separate clinical studies, delivering 14/9 mmHg average sustained blood pressure reductions
Thousands of patients are using and witnessing the benefits of RESPeRATE
A Strong Medical & Scientific Foundation
Guided by a world-renowned Scientific Advisory Board, InterCure, the maker of RESPeRATE, is committed to evidence-based medicine, clinical validation and a sound scientific foundation.
The company has already demonstrated strong clinical validation for RESPeRATE. Clinical achievements for RESPeRATE, our non-drug medical device for lowering blood pressure, include:
The first and only medical device indicated for the adjunctive treatment of hypertension.
14/9 mmHg average sustained blood pressure reductions within 8 weeks.
No side effects, no drug interactions.
Results of six clinical trials were published in peer-reviewed medical journals. [1-5]
RESPeRATE warranty: 1 year
References:
Schein M, Gavish B, Herz M et al. "Treating hypertension with a device that slows and regularizes breathing: a randomized double-blind controlled study." J Human Hyperten 2001; 15(4): 271 - 278.
Grossman E, Grossman A, Schein MH, Zimlichman R, Gavish B "Breathing-control lowers blood pressure." J Human Hyperten 2001; 15(4): 263 - 269.
Rosenthal T, Alter A, Peleg E, Gavish B. "Device-guided breathing exercises reduce blood pressure and ambulatory and home measurement." Am J Hyperten 2001; 14(1): 74 - 76.
Giannattasio C, Failla M, Meles E, Gentile G, Grappiolo A and Mancia G "Efficacy of self treatment of hypertension at home with device-guided breathing." Am J Hyperten 2002; 15(4,2)186A.
Elliott W, Izzo J, Rosing D, Snyder C, White W, Alter A, Gavish B, and Black B "Hypertension reduction by device-guided breathing shows a dose-response relationship." Am J Hyperten 2002; 15(4,2)186A.
How RESPeRATE Lowers Blood Pressure
RESPeRATE utilizes a patented technology to pace your breathing from the normal range of 14 to 19 breaths per minute to the "therapeutic zone" of under 10 breaths per minute.
Within a few minutes into the exercise the muscles surrounding the small blood vessels dilate [relax], thereby allowing blood to flow more freely, resulting in lower blood pressure. The RESPeRATE's pacing technology, enables you to perform these therapeutic breathing maneuvers effortlessly.
Your breathing returns to normal after each session but the beneficial impact on your blood pressure accumulates.
With regular use of the RESPeRATE significant and sustained reduction in blood pressure can be achieved.
PRECAUTIONS
Do not use this device without consulting your physician if you suffer or have suffered in the past from: active ischemic heart disease/unstable angina, severe congestive heart failure, chronic atrial fibrillation, stoke resulting in permanent impairment, chronic renal failure, severe asthma, chronic obstructive pulmonary disease (COPD), like chronic bronchitis and emphysema, or major organ failure.
For best results use for 15 minutes per session, at least 3 or 4 times per week.
Full details to operate RESPeRATE and perform the breathing exercises can be found in the RESPeRATE user manual.
Small, portable computerized unit with interactive tutorial
Breathing sensor
Ear buds
User Manual
4 AA Batteries
Memory to help you track your progress
We found other products you might like!